learning by moving
A fully gamified, GPS-based approach for young heroes to develop and combine problem solving skills, teamwork and movement.
Try now
Easy for Teachers
Just select your task list, choose a location, set the time limit and let students have fun!
Motivating for Children
Exercise and instant reward makes the widest range of subjects and topics super exciting!
Highly Flexible
Various game modes are available and new tracks can easily be created at school playgrounds or local parks.
exiquiz is similar to Pokémon GO, but for educational purposes.
Students, equipped with the exiquiz web app, alternate between outdoor or indoor points and meanwhile 'pick up' and complete tasks. Whilst playing, they receive ranks and encouragement based on their progress to keep them motivated.
An ideal tool for practising different topics, for extracurricular activities, for homework, or for school contests.
Try exiquiz Now For Free!
Test our platform with your students now completely free of charge!
Let us shape the future of exiquiz together! Looking forward to having you and your students on board.
Student App + Teacher Platform
Prepare a game easily in the exiquiz teacher platform for your students, then simply share a game pin code with them. They can start the adventure right away! The teachers' platform as well as the exiquiz student web app are both straightforward and simple to use.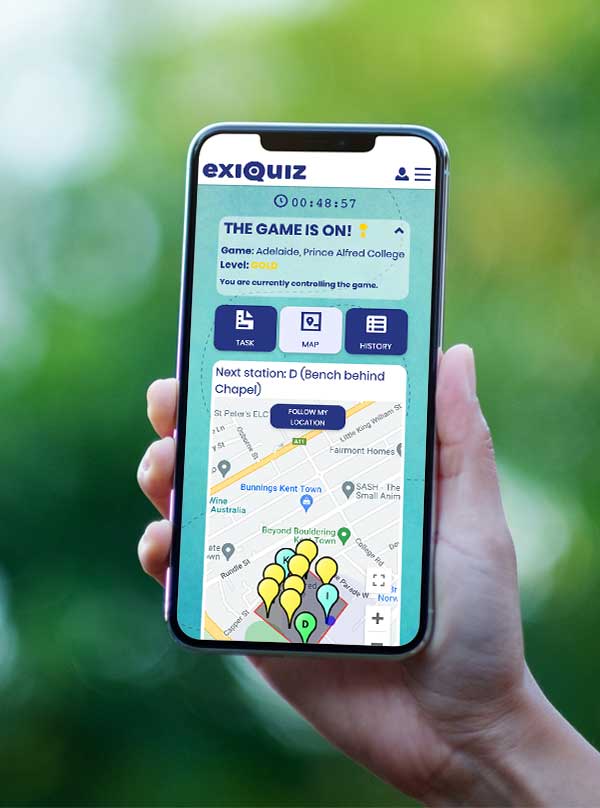 4 Easy Steps For Teachers
1. Select a Track
Choose an existing track or create your new one at your school playground or a local park with ease – anywhere in the world!
2. Choose a Quiz
Choose a task list – several built-in quizzes are available during the testing for various age groups.
3. Share Pin Code
Generate a pin code for your game and tell students to enter it into the exiquiz student web app.
4. The Game Is On!
Students can now complete the challenge, while you monitor their performance in real time!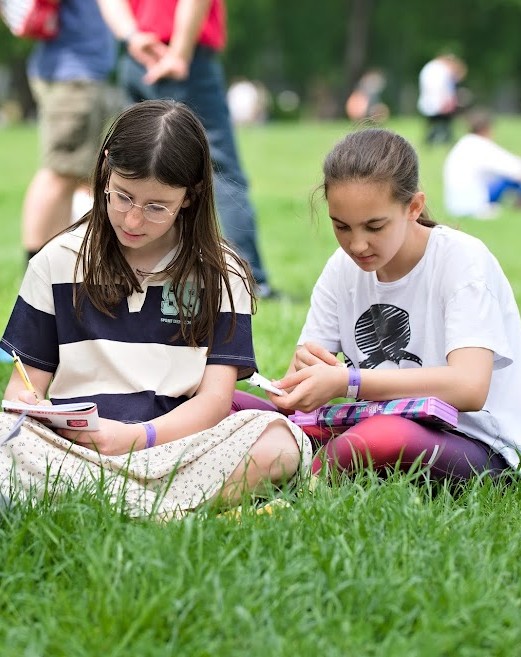 How long does it take to complete an exiquiz challenge?
A time limit can easily be set from the exiquiz teacher platform. It will depend on the number of tasks and their difficulty, the size of your chosen area and the age of the players. Time limits are typically between 30 and 120 minutes.
What are the recommended dimensions of an exiquiz game area / track and how many locations does it consist of?
The minimum size of the game area should be approx 150×150 meters (500×500 ft) to avoid the impression that students do not have to walk at all. The area should contain 6-10 different locations (a tree, a bench, a sculpture or any 'POI' is fine). A school playground may be suitable – if this is too small, we recommend choosing a local park. Dimensions might vary according to the geographical characterisctics of the area, but it is not recommended to exceed a maximum of 500 m (1600 ft) between two locations within the same area. The teacher platform guides you through the process of creating a new exiquiz track. Once your track is ready, you can use it for your exiquiz games as many times as you wish.
Is there an indoor version of exiquiz?
exiquiz is only available outdoors at present. If the weather is nice, we recommend going out and having a try. However, we are also planning to introduce an indoor version where students can walk within the school building. Once this variant is ready to use, we will provide you with further information.
Which age groups can use exiquiz?
exiquiz is open to all age groups, from the youngest pupils to adults. Each age group should be provided with appropriate tasks for their level.
Can teachers upload / use their own tasks?
In the first test period only preinstalled quizzes can be completed (several quizzes are available for different age groups). However, if you contact us, we will gladly set up your task list in the platform which you can then share with your students. In later versions every user will be able to upload their own task lists.
Can students play both individually and in teams?
Of course! Even when playing in teams, every team member can follow the team progress and check out the current task on their own phones. This makes the platform really flexible.
Our goal is to provide children with a tool that helps them to easily absorb key skills such as the importance and joy of teamwork as well as problem solving. All of this is achieved through play and movement.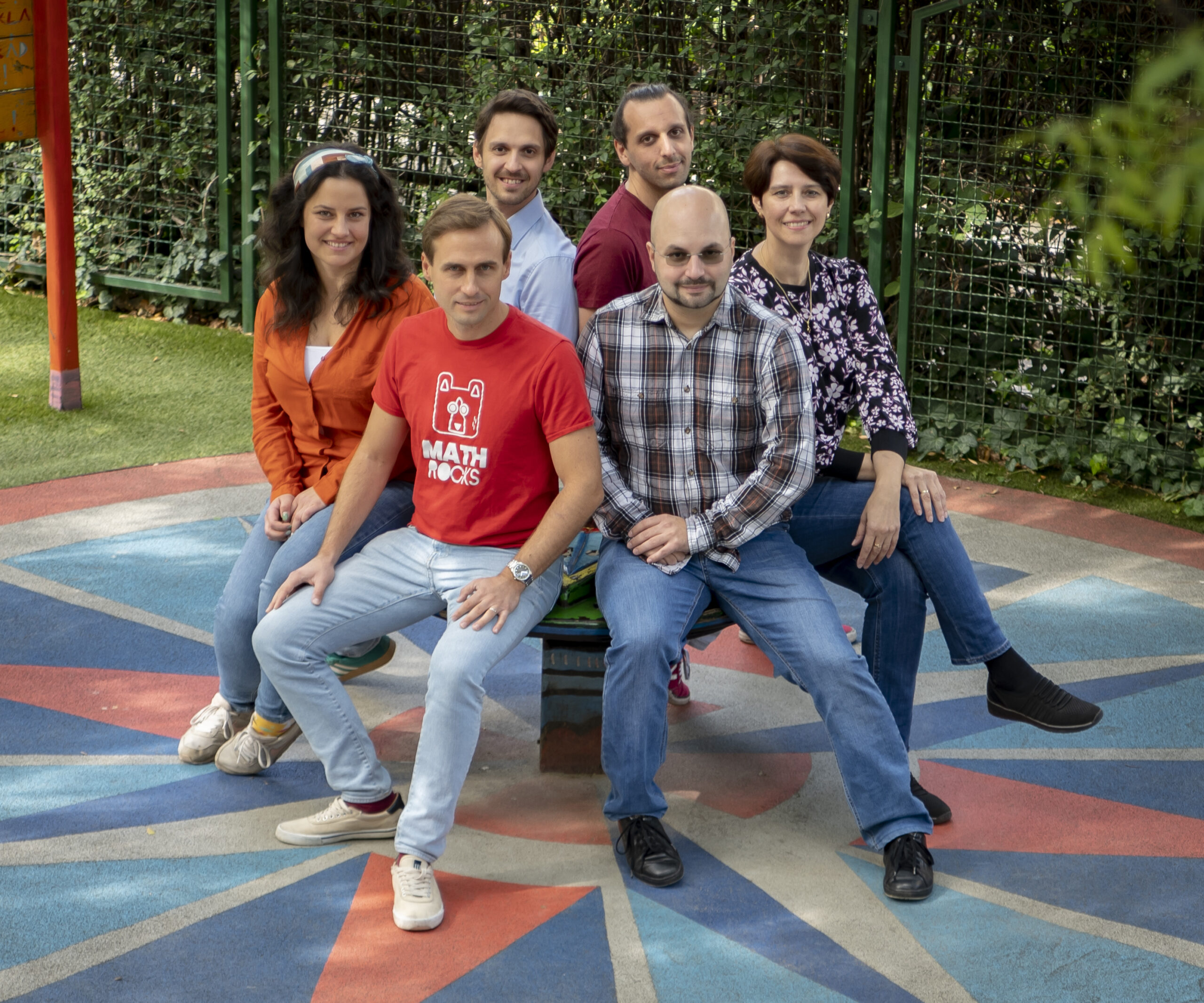 …an enthusiastic team consisting of teachers, researchers, IT specialists and young volunteers from Budapest, Hungary. While constantly looking for ways to make learning fun for children, we have been running one of the most popular local talent development programs for more than 10 years. Each year, during our outdoor contests more than 15,000 students have been moving, solving puzzles together and having fun while learning.
What Our Students and Teachers Say
It is often a headache for me to make my students use their phones for meaningful activities. The way this app keeps them motivated to learn is just amazing!
This is what 21st century kids need: team spirit, physical activity and tasks that are challenging, but achievable for them.
Our teacher tried to give a long introduction before the game, but we immediately understood. We just wanted to start.
Testing has started, sign up NOW!
Sign up below and you will receive detailed information via email about entering the exiquiz teacher platform.
Any questions? Contact us at hello@exiquiz.com